We are open daily during August for food and drink.
Plenty of seating inside and out. Pre-booking with us will guarantee you a table inside and you will be shown to your table upon arrival. We have rearranged the tables inside to comply with social distancing regulations.
We also have provided more seating outside for eating and drinking, with a gazebo seating area if you prefer to sit in the shade or the British weather treats us to a surprise shower!
Unfortunately at present we are unable to allow dogs inside the pub unless for medical reasons.  We apologise for any inconvenience.
August – Open Daily
Monday – Saturday
12noon – 10pm
(Food: 12-2.30pm & 5-9pm)
Sunday
12noon – 8pm
(Food: 12-4pm – two sittings 12 & 2pm)
* Eat Out to Help Out – Terms & Conditions
Monday 3rd August – Monday 31st August
50% off food & non-alcoholic drinks when dining.
Up to £10 off per person
Available Monday to Wednesday
Offer available on dine in only (not takeaway)
For further information, visit www.gov.uk
We would like to reassure customers we are Covid Secure (please see Covid Secure Information Poster below). 
We look forward to seeing you all in the near future.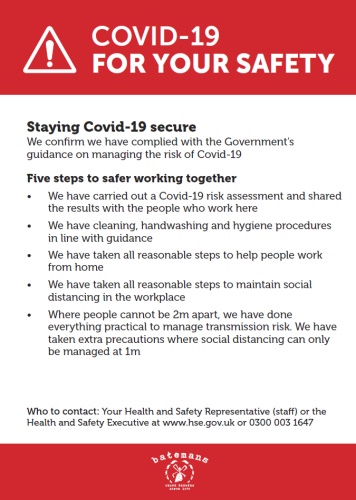 Welcome to The Old Chequers Inn
This charming country inn is a listed building and is said to be the oldest pub in Lincolnshire. It once served as a jail and 'hosted' prisoners from Lincoln jail prior to their departure to an uncertain fate overseas. Fortunately for today's guests there's a much warmer welcome in store!
The Inn is surrounded by rolling Lincolnshire countryside and overlooks Lymn brook. It's certainly a pretty spot to enjoy a drink or a pub meal. In the colder months there are two roaring open fires to welcome you. The pub is dog friendly too, so feel free to bring your well-behaved pets along. Whether you're eating with us, staying at The Sunset Brook Caravan Park that's adjacent or just popping in for a pint of Batemans, you'll feel right at home.
Fourth-generation family brewing
Batemans has been brewing quality beer in Wainfleet since 1874. It's still owned and run by the Bateman family, now in its fourth generation, and they use the same traditional craft brewing methods as their legendary great-grandfather, George Bateman.
August – Open Daily
Monday – Saturday
12noon – 10pm
(Food: 12-2.30pm & 5-9pm)
Sunday
12noon – 8pm
(Food: 12-4pm – two sittings 12 & 2pm)
* Eat Out to Help Out – Terms & Conditions
Monday 3rd August – Monday 31st August
50% off food & non-alcoholic drinks when dining.
Up to £10 off per person
Available Monday to Wednesday
Offer available on dine in only (not takeaway)
For further information, visit www.gov.uk
Summer Opening Hours
Thursday & Friday
5pm – 10pm
(Food: 5pm – 9pm)
Saturday
12noon – 10pm
(Food: 12-2pm & 5-9pm)
Sunday
12noon – 8pm
(Food: 12-4pm – two sittings 12 & 2pm)